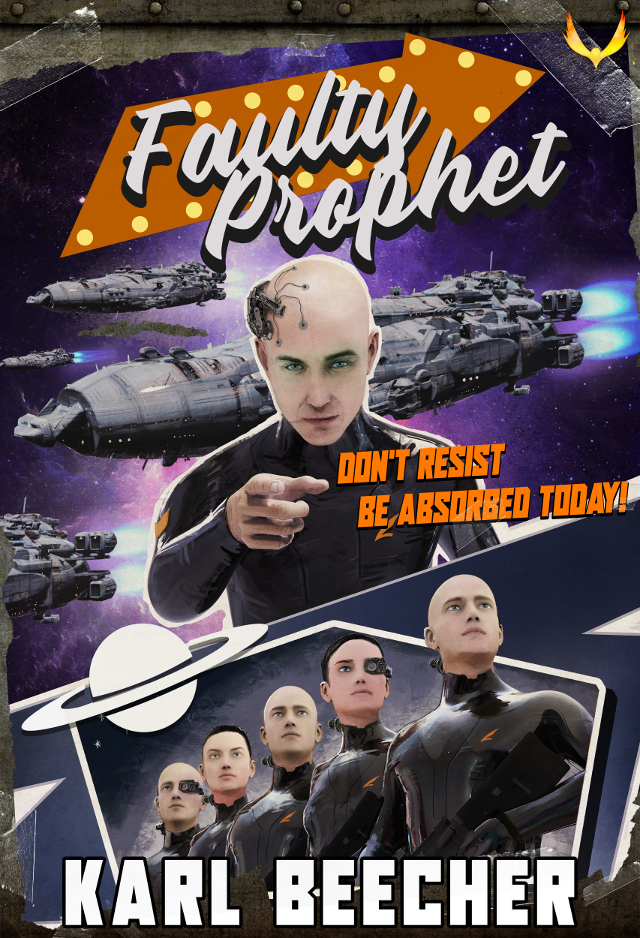 Publisher: Aethon Books (2019)
Sold by: Amazon (paperback, ebook) and Audible (audiobook).
---
Evangelist Brock T. Hanson believes Colin Douglass to be the prophet he's been waiting for his whole life, the man who will lead the faithful back to Earth and trigger the most momentous event since Creation itself. But there's a problem.
Actually, there are several.
First, Colin Douglass himself doesn't believe a word of it and is the kind of chap who'd rather stay at home with a nice cup of tea than cross the galaxy on some foolish, idealistic crusade. Second, Earth lies within the territory of the Transhackers, a race of cold-blooded, trigger-happy cyborgs who don't easily forgive those who trespass against them. And third, Colin Douglass might not even survive a trip to Earth because he is succumbing to a life-threatening illness.
When Hanson kidnaps Colin and takes him to Earth anyway, Tyresa Jak sets off in hot pursuit to rescue Colin before either the Transhackers or his disease can destroy him.
The rollicking space adventure continues in this hilarious sequel to Interstellar Caveman.
What are people saying?
A selection of reviews rated as most useful by readers (from Amazon and Audible):
"The characters developed nicely and they drew me into the story. Now this book truly peaked my interest in what the group does next."
"Totally sold. I'm a fan. Beecher is great. West is great."
"Great fun, thoughtfully crafted, enjoyed every minute 😁"
Sound good?